TSHD sold to the DRC
DSB Offshore Ltd recently acted as exclusive broker to Jan De Nul Group, in the sale of one the 'great ladies' of her dredging fleet, to Congolaise des Voies Maritimes (CVM) in the Democratic Republic of Congo. It was therefore a great honour for the Directors of DSB Offshore Ltd, to attend the official handover ceremony, on 2nd December 2020, in the Port of Boma, for the much anticipated arrival of CVM's new dredger.
'Manzanillo II' (still to be named officially by CVM), and described by the Congolaise in one speech, as "gigantesque" (being far bigger that any dredger they have had working on the Congo River before), is a Trailing Suction Hopper Dredger (TSHD) of 114m LOA, with a 4,000 m³ hopper capacity, an impressive total installed power of 14,000 kilowatts, and accommodation on board for 50 crew members.
Great Lady of the River Congo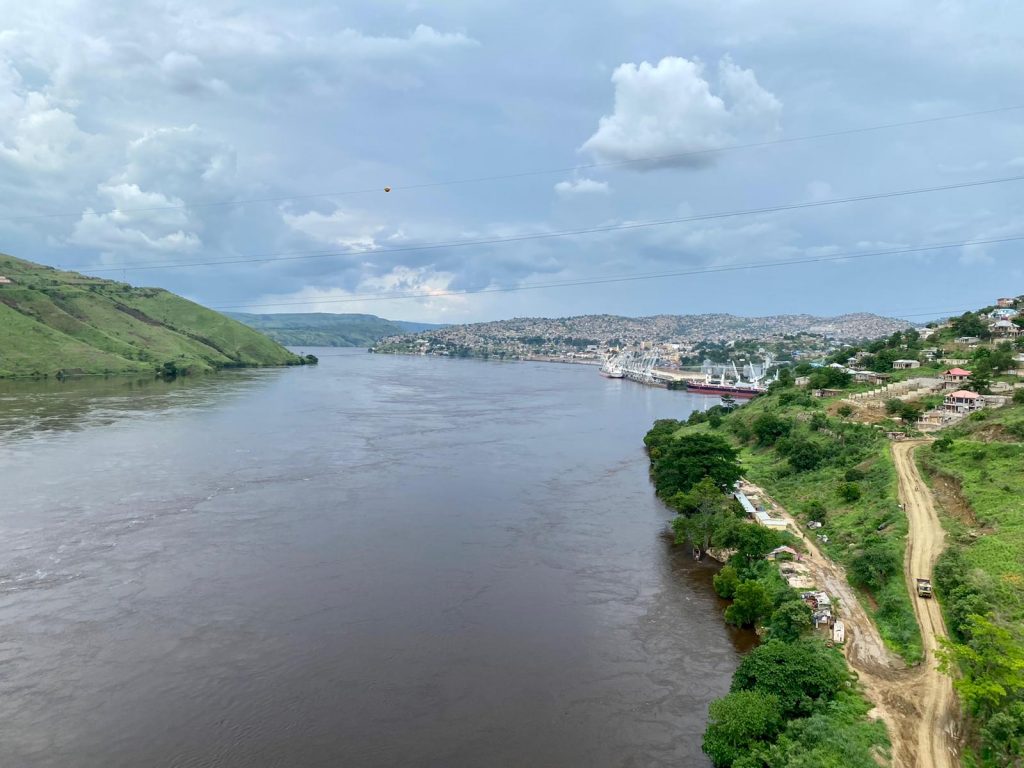 This great lady, built in Saint-Nazaire, France in 1988, for the then Mexican National Dredging Company, has had an interesting history and impressive service record.
She began her career in Mexico, doing maintenance dredging for several Mexican ports, on both the Atlantic and Pacific coasts. Then, in 1995, after the partial privatisation of the Mexican national dredging company, she was purchased by dredging major, Jan De Nul.
With Jan De Nul, she launched a truly international career spanning Africa, Europe and America. Her glittering Curriculum Vitae includes maintenance and deepening campaigns in the Port of Bahia Blanca, and the Rio Parana between Buenos Aires and Santa Fe in Argentina; Port Said in Egypt; the Ems River in Germany; the Port of Leixaos in Portugal, Cadiz in Spain; the port of Klaipeda in Lithuania and other campaigns in Antwerp, Ostend and Zeebrugge to name but a few.
Right up until she set sail for the Democratic Republic of Congo (DRC) she was still in full operation despite her age, and she reached the Congo River – probably her most far flung destination – in top form and ready to serve the Congolaise des Voies Maritimes (CVM), and the people of the DRC in Boma and Matadi.
CVM and the Congolaise crew will take over the maintenance of the DRC's critical ports using 'Manzanillo II'. The Congo River is of crucial economic importance to the Congolaise, and ensuring that the river is navigable is a full time job. Having their own dredger frees up the CVM to choose its own priorities, and they will no longer be dependant on other dredging contractors.
The atmosphere was jubilant on the 2nd December, filled with colour, with dancing, with cheering crowds (even masks embossed with an image of the vessel were made for the occasion and worn with pride).  Attended by the Prime Minister, Mr. Sylvestre Llunga Llunkamba, several ministers, dignitaries and locals, it was a special day.
And all the time, 'Manzanillo II', their great 'new' lady of the river watched over them.