Future of Dredging
"Thanks to its skilled employees and the world's most modern fleet, Jan De Nul Group is a leading expert in dredging…" states the Jan De Nul Group's website 'About Us' page.
This is quite a statement to live up to, and in order to maintain this strong place in the dredging market, renewing its fleet is essential.
TSHD 'James Ensor'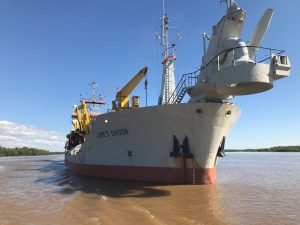 This week the Group said a fond farewell to one great lady who has been a loved and hardworking member of the fleet for many years – the TSHD 'James Ensor'.  On 4th September she was sold to European buyers for work in West Africa.
Built in 1980 at Scheepswerven St Pieter, NL, 'James Ensor' is a 112.8 x 18.2m, 3,600m3 Trailing Suction Hopper Dredger has sliding bottom doors and bow discharge. Ordered under the supervision of Mr Jan Pieter De Nul (CEO) as a maintenance/training vessel, she was furnished with accommodation for up to 50 people. For many years she worked on the Westerscheldt River, Netherlands and built up the dredging expertise of Jan De Nul crew.
More recently, 'James Ensor' has been working in South America maintaining the 'Río Paraná' and 'Río de la Plata' in Argentina. This project, the largest maintenance dredging project undertaken by the Jan De Nul Group, is aimed to increase the navigability of the river, improving trade and communication on Argentina's inland river system.
Now, with her new owners, 'James Ensor' goes on to fresh pastures in Nigeria.
Newbuild Dredgers
'James Ensor's place in the fleet will be filled by dredgers of the very latest in design and technology, ensuring the Group's continued strength in the market for many years to come.
Presently, the Jan De Nul Group has 6 newbuilding Trailing Suction Hopper Dredgers on order and under construction, including 3 units of 3,500m3 capacity. Deliveries are expected in 2018, 2019 and 2020.
Innovation, expertise and sustainability – these remain Jan De Nul Group's core values.
++++++++++++++++
'James Ensor' was sold via London shipbrokers, DSB Offshore Ltd.
DSB Offshore Ltd has been working closely with the Jan De Nul Group for over a year as exclusive brokers to sell off some of its auxiliary fleet (barges, tugs, crewboats). All Jan De Nul vessels are well maintained and generally sold with an extensive set of spare parts, making this equipment most attractive to buyers.
DSB Offshore Ltd is proud to be supporting the Jan De Nul Group's great vision.
Jan De Nul Group – new TSHD dredgers
Launched in 2018: 'Diogo Cão' – 3,500m3, ultra-low emission (Keppel Nantong shipyard in China)
Delivery 2018: 'Alfonso de Albuquerque' – 3,500m3, 'Tristão de Cunha' – 3,500m3
Under construction 2019: 'Sanderus' – 6,000m3, 'Ortelius' – 6,000m3
Under construction 2020: Vessel '8700' – 18,000m3