DSB Offshore Ltd delivers dredgers to West Africa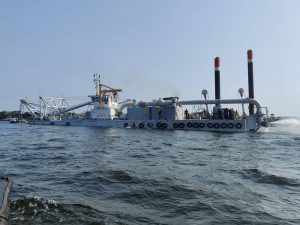 DSB Offshore Ltd has recently sold a number of dredgers for work in West Africa.
2020 was an apocalyptic, zoom-intensive, stay-at-home year for DSB Offshore Ltd. As with much of the marine world, with crew changes hampered, flights unreliable and inspections impossible (not to mention Brexit looming) 2020 proved to be a disruptive and challenging year in business.
But all stories need a happy ending, and 2020 ended well. In the final months of the year, business picked up and we saw some long, difficult sales finally go over the line.
We are pleased to have sold a number of dredgers on to new owners in West Africa.
Nigeria
As the European dredging majors take delivery of ever more efficient, ecological and powerful newbuild dredgers, the trend has been for them to dispose of their older, smaller dredgers. This period of fleet renewal is now tapering off, and a number of these units have now been sold to West Africa to be operated by small, locally positioned companies with limited fleets.
Due to the wealth of a burgeoning middle class in Nigeria, fueled by petro-dollars, the demand for prime land on the Lagos Lagoon is on the rise. This has resulted in the need for capital dredging campaigns and land reclamation projects in the area.
In July 2020 we concluded the sale of CSD, 'Dirk Martens' to a local dredging company in Nigeria. Built in 1972, at IHC Rees De Klop, Netherlands, she is a 58.8m LOA cutter with a 700mm discharge pipe diameter, 370kW cutter power and 19.5m dredge depth (total installed power: 2,370kW).
She is at work in the Lagos Lagoon, performing capital dredging and land reclamation.

Oil Fields
In the Forcados region of Nigeria, the recent development of new oil fields has brought with it the requirement for new marine infrastructure. In such, DSB has also sold 2 TSHDs to a Nigerian oil company, who have bought, in quite quick succession, trailing Suction Hopper Dredgers 'Galilei 2000' and 'Orwell' for dredging projects of their own on the Forcados River.
'Galilei 2000', 1979 built, 87.4 LOA, 2,339m3 TSHD was sold via DSB in 2018. The Buyers then approached DSB in 2020, looking for another TSHD to add to their fleet. So, in December 2020 we concluded the sale to them of 1987 built, 'Orwell'.
'Orwell' was built in Fulton Marine Ruisbroe, Belgium and is a 93.21m LOA, single trailer TSHD. She has a 2,575m3 hopper capacity, is equipped with pump ashore, bottom dump, rainbow discharge type, and has a 27m dredge depth. She has also now arrived safely in Nigeria and is at work on the Forcados River.
The sale of 'Dirk Martens', 'Gallilei 2000' and 'Orwell' follow on from our earlier sale of ex Jan De Nul Group TSHD, 'James Ensor' to Latvian buyers in 2018, also for work in Nigeria.
'James Ensor' is a 112.52m LOA, 1980 built  in Hemisksem, Belgium is a double trailer with hopper capacity of 3,600m3, 700mm diameter discharge pipe and 30m dredge depth. She is also involved in maintenance dredging in the Lagos Channel.
Democratic Republic of Congo
Finally, in November 2020, after successfully concluding the sale of 4,000m3 maintenance hopper dredger, 'Manzanillo II', DSB directors were pleased to be able to attend the official welcome and naming ceremony for the vessel in person at the Port of Boma, in the Democratic Republic of Congo.
There she will be carrying out essential work, keeping the great Congo River open and deep enough for large cargo vessels to move through the channel, to deliver their cargo at Matadi, an essential trade port of the DRC.
DSB Offshore Ltd are delighted to be pushing more into the African market.