Port of Otago Ltd, New Zealand
Port of Otago Ltd, New Zealand, has acquired a new dredger.
In April 2018, buyers took delivery of backhoe dredger, 'Kostaldea', in the port of St Nazaire, west coast of France – sold via London shipbrokers DSB Offshore Ltd.
'Kostaldea' (35m LOA), built in 2013, in Szczecin, Poland, and equipped with a Liebherr P984C Hydraulic excavator, is a rare unit in New Zealand.'
'Takutai'
"She will be re-named 'Takutai'," says Sean Bolt of Port of Otago Ltd. "This is the Maori word for 'coastline'. 'Kostaldea' is the Basque word for 'coastline' so we're not really changing her name."
'Takutai' arrived on 15th June at her new home, aboard Jumbo Shipping's heavylift vessel, 'Fairpartner' (Dims 144 x 26m; 2 x 900t cranes). 'Fairpartner' completed over 11,000 nautical miles, swinging round the Magellan Strait, on her journey from France to New Zealand.  Her arrival was much anticipated and comes at a time of significant growth in the region.
Not only is Otago an eco-tourism destination, known for its physical beauty as a haven for birds and marine life, it is also a major export port for the New Zealand South Island region and is strategically placed to receive vessels from deep-sea destinations.
The Port of Otago Ltd is responsible for the maintenance of 12 nautical miles of channels.
'Takutai' will be doing a combination of maintenance dredging and capital dredging in the port. She replaces a "flat-top barge and RB bucket crane" combination which has come to the end of its life, explains Sean Bolt.
"We have resource consent to widen and deepen our lower channel by about 5 million cubic metres, and we are also looking at doing the same to the upper harbour channel – larger ships being the driver. In addition to this, 'Takutai' will also be involved in some rock projects."
"She is ideal for this work," says Mr Bolt.
Heavylift transport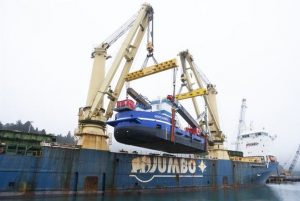 In November 2017 Port of Otago Ltd approached DSB with their specific purchase requirement. Apart from the need to meet very clear budget limitations, the greatest challenge presented to the brokers was finding a suitable and available heavylift vessel, capable of transporting a dredger of over 700 tonnes light weight, in the shortest time possible, to the other end of the world.
"'Takutai' will be one of only three backhoe dredgers of this type in New Zealand and the first to be owned by a port company. We are really excited to have a well-constructed, modern backhoe dredger, which we see as a vital tool for us for the next 25 years," says Sean Bolt.
Having spent her early life in France, 'Kostaldea' now begins her new career in New Zealand – new name, new home, new owners!