30 June 2017:  A2SEA sell flagship jack-up barge, 'SEA JACK' to buyers in the Mediterranean.
A2SEA began its career in wind energy with pioneering initiative, doing what no other company had done before. It acquired 2 cargo vessels 'OCEAN HANNE' and 'OCEAN ENERGY' and modified them into ship-shaped self-propelled self-elevating jack-ups.  Up until this point non-propelled civil construction jack-ups had been used to lift windfarm components off flat-top barges in difficult sea conditions, presenting safety issues.
'SEA POWER' and 'SEA ENERGY'
With these purpose-built vessels (renamed 'SEA POWER' and 'SEA ENERGY'), it became possible to put turbines on deck and transport them to offshore sites. These were among the very first vessels in the world to install wind turbines. They were equipped with the most up-to-date technology of their time and could perform precision work. Their relatively short pre-loading time, made them efficient for A2SEA's projects.  'SEA ENERGY' and 'SEA POWER' were sold in 2014 and 2017 respectively and are now operating elsewhere – 'SEA ENERGY' in West Africa working as a crane ship, 'SEA POWER' in Turkey being converted, 'as we speak', into the world's first jack-up power ship.
'SEA JACK'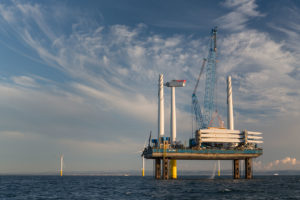 In 2007 A2SEA added the 'SEA JACK' (ex 'JUMPING JACK') to its fleet. A non-propelled self-elevating platform, by her sheer dimensions of 91 x 33 metres and leg length of 50 metres, she could operate in much deeper waters. In addition, her 800 tonne Manitowoc M1200 Ringer crane and massive deck space made it possible to store and install larger wind farm components with control and safety.
A2SEA's jack-ups have been responsible for the installation of some 1,500 turbines and 400 foundations for offshore wind farms worldwide – including Horn Rev 1, Horn Rev 2 and Nysted, installed by 'SEA POWER' and 'SEA ENERGY'.
'SEA JACK' has been a versatile vessel. Between 2014-2015, she took a break from the renewables industry, to carry out reclamation work in the port of Liverpool. Her scope of work included the construction of a quay wall of 815 metres long and 30 metres high. To this end she supported piling gates, pitched and drove the conductor casing and drove the piles.
A2SEA
A2SEA has grown into a world leader in wind energy since its inception at the start of the millennium and will continue to prioritise operations in sustainable wind energy, making the necessary advancements to fulfil the requirements of today's market. The company retains its two purpose-built DP2 second-generation self-propelled units 'SEA CHALLENGER' and 'SEA INSTALLER' (both 132 x 39 metres in dimensions with a leg length of 82 metres), which are capable of installing the world's biggest turbines. Currently, A2SEA is installing 91 turbines for DONG Energy on Race Bank and 67 turbines for Statoil on Dudgeon.
DSB Offshore Ltd
All three vessels, 'SEA JACK', 'SEA ENERGY' (now 'EXCEL') and 'SEA POWER' were sold via brokers DSB Offshore Ltd, acting as exclusive agents on behalf of sellers, A2SEA.