Who would ever associate a jack-up barge with football?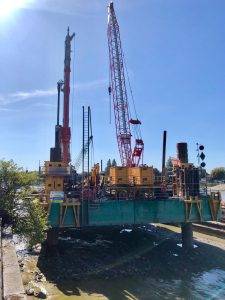 If you take a walk along the Thames tow path in the Borough of Hammersmith & Fulham, you'll have noticed a rather unusual four-legged player at the Riverside stand of Fulham Football Club – a 30m long jack-up barge with a fresh 'pair' of 36m legs!
Earlier this year Fulham Football Club announced the go-ahead of renovations to their Riverside Stand estimated at £100m. The development not only increases the venue's capacity from 25,700 to 29,600, but also adds amenities which benefit supporters and the local neighbourhood.
"Make no mistake, the Riverside development will be a location like no other, a real game-changer for Fulham Football Club, our neighbourhood, and all of London," says FFC chairman Shahid Khan.
"Our aim is to create a world-class destination for fans and guests to experience and enjoy, whilst retaining the charm that Craven Cottage exudes within our very own section of the River Thames."
Jack-up transfers from Chelsea to Fulham
The arrival of specialist vessels this summer marked the first fixture of the season and start of the construction work. Among them 'Admiral 1', a 30 x 18m, 400 tonne Jack-up barge.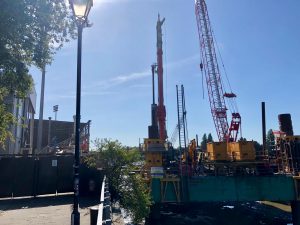 In 2016 DSB Offshore Ltd brokered the sale of this self-elevating platform, then named 'Hydroszczudlak', to current owners Jackup GB, and arranged transport of the vessel in a double towage (along with flattop barge 'Maritim III') from Poland to Tilbury.
The jack-up come off a 12-month charter for the Thames Tideway Tunnel project at Chelsea Embankment (brokered through DSB Offshore Ltd).
This current charter is the latest 'home fixture' not only for Thames-based operators Jackup GB, but also for DSB Offshore Ltd, who from our office on Putney Bridge, can just about see her – some fresh legs for the home side!
She is due to be in Fulham until the end of the year. "Come on you Whites!!"