The humble flat-top barge in all its permutations is a much neglected vessel type (yes, at DSB we do indeed consider a barge to be a 'vessel'!) and yet they are the workhorses of the industry. Largely non-propelled, un-glamorous and often uncomplicated in design, nevertheless, the flat-top barge is an essential piece of marine equipment on many marine construction projects worldwide.
Barge DN'143′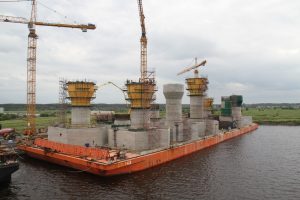 Jan De Nul's 'DN143', however, stands out from the crowd as a rather special unit.
At an impressive 136m LOA and 42m beam (longer than a standard football pitch) and 24,334 dwt, this 'Giant of the Sea' is one of the most photographed non-propelled floating units on shipspotting.com.
Sainty Barges
Built in 2007 in China, formerly known under the name 'Sainty 6', she was the sixth barge of this type constructed between 2002 and 2008 by Sainty Shipyard to deliver its stacked cargos of newbuilding river barges to Holland and Germany during the boom years of Rhine River transports.
'Sainty barges', as they came to be called, found their employment and use in varied segments of the industry because of their huge deck space and impressive carrying capacity.
By way of examples – 'Sainty 1' is now working as a rock barge in the Arabian Gulf; 'Sainty 2' became the pipelay barge 'MRTS Defender'; 'Sainty 5' became the rockbarge 'Stema 2'; 'Sainty 7' became 235MW power barge 'Karadeniz Powership Aysegul Sultan' and is now providing power to Ghana.
'DN143' (as 'NG-102' ex 'Sainty 6′) found its path in the offshore industry: – transport of jackets, hydraulic installation of ballast material into GBS, installation of scour protection for an offshore LNG terminal. One of her most significant jobs was for in-house Jan De Nul project construction of gravity based foundations for offshore wind turbine generators for the Swedish Karehamn offshore wind project (pictured). Concrete foundations were poured on 'DN143', after which the barge was used to install these foundations offshore. Subsequently, heavy fill ballast such as iron ore was installed in the shaft and ballast bins.
'DN143' for sale through DSB Offshore on behalf of Jan De Nul Group
'DN143', now currently in Gdansk, attracts attention wherever she is moored. Jan De Nul Group has tasked DSB with the sale of this Giant. Potential buyers are to contact DSB Offshore Limited for further information – brokers@dsboffshore.com
NOTE: THIS VESSEL IS NOW SOLD