Shoalbuster and crew transfer vessel to Horns Rev 1, Denmark – 2002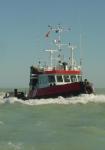 In the summer months of 2002, Elsam constructed the world's largest offshore wind farm at the Danish west coast. Building on experience gained at Tunø Knob (Tuno Knob) trial project, Horns Rev Offshore Wind Farm is located in the North Sea 14 – 20 kilometers west of Denmark. Four times larger than the previous largest offshore windfarm, construction work began in 2002 and was commissioned in early 2003. The windfarm comprises 80 Vestas V80 turbines on monopile foundations capable of producing 160 MW.
DSB Offshore provided the following vessels:
Shoalbuster 'Marlene' was used for anchor handling operations during the construction phase working for MT Hojgaard as DSB's client.
Fast crew transfer vessel 'Kila' supplemented work carried out by the Eurocopter helicopters also working for MT Hojgaard as DSB's client.
Since July 2006 Horns Rev Offshore Wind Farm has been 60 percent owned by the Vattenfall Group and 40 percent owned by DONG Energy.
The Horns Rev project was a key landmark in the Danish Government's ambitious energy plan. According to the plan, wind turbines with a total capacity of 4000 MW must be established in Danish waters before 2030.
North Hoyle Offshore Windfarm, Vessel Spread – 2003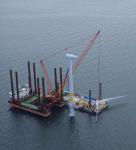 The first of the UK's Round 1 offshore wind farms, North Hoyle is situated in Liverpool Bay. The majority of the offshore construction work was carried out during 2003, with the wind farm commencing operation at the end of the year.
The offshore work was carried out by The North Hoyle Consortium, a comprising of two UK companies -Vestas Celtic Wind Ltd and Mayflower Energy Ltd.
The Round 1 projects were intended to act as testbeds, building the UK's understanding of offshore wind, whilst in total also providing well over 1000 MW of green generating capacity for the UK. All of the Round 1 offshore wind farms were limited to a maximum area of 10 square kilometres (3.9 sq mi), and no more than 30 wind turbines.
The wind farm's 30 Vestas V80 Offshore wind turbines are each rated at 2 MW capacity, giving a maximum project output of 60 MW.
At the time of installation this was the most powerful wind farm in the UK, producing sufficient electricity annually to power 50,000 homes. Due to the late arrival of Resolution, the World's first dedicated windfarm installation vessel from the shipyard in China, DSB Offshore were asked by Mayflower Energy Ltd to provide replacement jackups and supporting tugs, manoeuvrable tow tugs and small anchor handlers (AHTs).
The vessel spread consisted of the following:
'Argus' (Voith Schneider)
Jackup 'JB1'. An 8 legged jackup equipped with 300t crane
Jackup 'Annegret'
'Rotesand' (Voith Schneider)
Shoalbuster-type 'Afon Cefni' for anchor-handling and support
North Hoyle was developed, built and is operated by Npower renewables (formerly National Wind Power). Npower renewables also own the neighbouring Rhyl Flats and Gwynt y Môr offshore wind farms."
Lynn and Inner Dowsing Windfarm cable repair, East Coast UK – 2009
DSB Offshore supplied a wind farm vessel spread to Centrica's Lynn and Inner Dowsing offshore windfarm from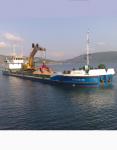 February through to summer 2009. The vessel spread consisted of:
'Neptune Mariner', 43 ton bollard pull anchor handling tugboat / utility vessel
'Nova K', multicat type vessel, 31 ton bollard pull, conducting anchor handling
'Stemat Oslo' – four point mooring crane barge vessel equipped with Liebherr crane with a 60m boom
The cable repair was undertaken at Skegness beach on export cable of the Lynn and Inner Dowsing Offshore Windfarm. Project involved cutting out the damaged subsea joint and replacing it with two subsea repair joints and a length of 630mm2 cable. The damaged joint was excavated from the beach and cut out before the cable was lifted on board the repair vessel.
London Array survey jackup spread – Thames Estuary – 2009
DSB Offshore supplied the jackup Odin and supporting anchor handling tugs for survey work on the London Array offshore windfarm in the Thames Estuary, September 2009.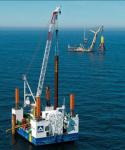 The vessel spread provided by DSB consisted of the following:
'Odin', jackup barge, with 300t crane
'Wolf', 46 tbp Voith Schneider, anchor handling tug
'Arion', 34 tbp voith Schneider, anchor handling tug
This formed part of the preparatory work prior to the construction phase of what is to become the world's largest offshore wind farm. The project is being built by a consortium comprising DONG Energy (50%), E.ON (30%) and Masdar (20%). The first 630 MW phase is scheduled to have been completed by the end of 2012. With a capacity of 630 MW, it will generate enough energy to supply around 475,500 homes and displace over a million tonnes of CO2 each year.