Charter of 'Fleur de Lys' as bird survey vessel – 2009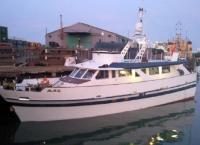 In 2009 DSB chartered the vessel 'Fleur de Lys' on a multi year contract as a bird survey vessel for work on offshore windfarms, East Coast Scotland. The 'Fleur de Lys' is ideally suited to this type of survey work as she has a service speed of 13.5 knots and an observation platform more than 5m above sea level. She was overhauled before commencement of the charter and has accommodation for 6 crew plus 6 passengers.
Greater Gabbard Offshore Windfarm, Vessel Spread – 2010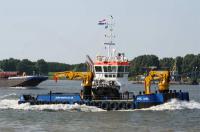 DSB Offshore supplied a vessel spread to support cable barge 'AMT Discoverer' for cable laying for the Greater Gabbard Offshore Windfarm.
The spread consisted of:
'Amstelstroom', anchor handling tug (AHT)
'BOA Mighty', anchor handling tug (AHT) for towage and support of cablelay barge
'Voe Jarl', multicat for anchor handling and support
Stemat barges 73/78 – equipped with 4-point mooring
Crewboat 'Strider', 'Blyth' 14m catamaran, used for crew transfer to monopoles
It involves the installation of 140 Siemens 3.6MW wind turbines located around two sand banks known as Inner Gabbard and The Galloper in the North Sea, off the Suffolk Coast.
Greater Gabbard Offshore Wind Limited is a 50/50 joint venture partnership between Scottish and Southern Energy (SSE) and RWE npower renewables. RWE npower renewables and SSE will share the electricity output 50-50.
At the time DSB Offshore was involved Greater Gabbard was the world's largest offshore windfarm in construction."
says David Durnford-Slater (former owner of DSB Offshore Ltd).
Charter of Multicat for Sheringham Shoal Offshore Windfarm – 2010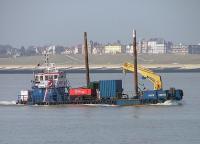 In 2010 DSB chartered the Multicat 'Forth Fighter' for work at the Sheringham Shoal Offshore Windfarm. The vessel was used for cable burial support in strong tidal conditions. 'Forth Fighter' has dimensions 23.5 x 7.5m with a draft of 1.5m and a 65tm hydraulic effer crane.
Charter of Crew Transfer Vessel to Barrow Offshore Windfarm – 2011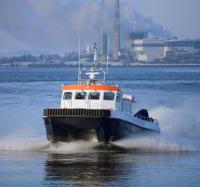 DSB Offshore supplied a 14m Blyth Workcat for work on the Barrow Offshore Windfarm, Spring 2011.   The vessel was used to repair the Transition Piece (TP) access ladders on all monopoles and the substation.
Subsequently the catamaran was used in the cleaning of the 25 monopoles. Pressure washer cleaning removes marine growth, seaweed, barnacles and encrusted bird droppings from platforms, ladders and other structures, an essential part of offshore wind farm operation and maintenance (O & M).
Barrow Offshore Wind Ltd. is the consortium behind the Wind Farm with the shares distributed equally between Centrica and DONG Energy.
Charter of Landing Craft to Lincs Offshore Windfarm and Crew Transfer Vessel to Thornton Bank – 2011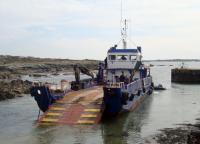 In 2011 DSB chartered the 29m landing craft 'Yorkshire Lady' to the Lincs Offshore Windfarm. It's role was to land cable and also carry a 12t excavator. The vessel has a cargo deck area of 19m x 5m and a payload of 96t.
In 2011 DSB chartered the crew transfer vessels 'Maestro' and 'Deliverer' to 'Global Marine Systems' for work at the Thornton Bank Offshore Windfarm in Belgium.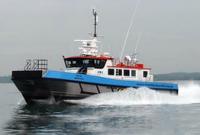 The vessels were used for personnel transport between cable lay barge and turbines on site. Maestro is an 18m South boat Aluminium catamaran capable of speeds of 24 knots. She has a clear deck space of 16m2 aft and 32m2 fwd. Deliverer is a 14m South boat aluminium catamaran with an aft deck of 19.5m2 and 19m2 fwd. She has a maximum unloaded speed of 25 knots.
Charter of 50tbp Shallow Draft Anchor Handling Tug – 2012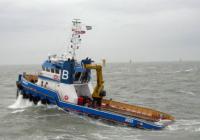 In Autumn 2012 DSB chartered 'Andre B', a 50tbp shallow draft Anchor Handling tug, to support the Jackup barge Odin at various Offshore Windfarms in the Irish Sea.
The tug has a length of 31.1m and a draft of 3.6m. Her deck equipment comprises of a double drum towing/AH winch of 40t hold, 60t brake, Karmoy Fork and Tow pins in addition to the Heila HLRM 200mt -4SL deck crane.