Sale of 2611 Eurocarrier to Acta Marine January 2016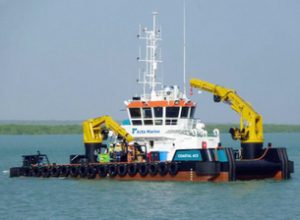 Sale of 2611 Eurocarrier: At the end of 2015 DSB Offshore was approached by Acta Marine, who were looking to add to their fleet a multicat-type vessel of around 30tbp. DSB, through their long involvement in Australia, were able to offer and negotiate the sale of an off-market 2611 Eurocarrier, located in N. Australia. 26.5m long, shallow draft , with 35 tonne bollard pull, she was built at Neptune Shipyards in 2013.
Operating on a tight schedule , DSB liaised with buyers and sellers on a daily basis right through the holiday period to achieve a delivery in Singapore to the Buyers in January 2016.
The Eurocarrier has now been renamed 'Coastal Ace' and will begin work in February on a dredging and reclamation project in Taiwan. The vessel was delivered on time and in good order. Both Buyers and Sellers were satisfied with the deal.
DSB enjoys a long standing relationship with Acta Marine.
Sale of Twin Screw Tug January 2016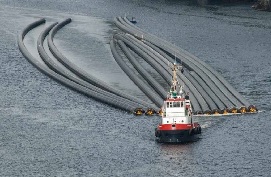 Sale twin screw tug January 2016: In summer 2015 DSB Offshore was approached by a Ukrainian broker looking for a tug for his Russian client. The deal was concluded in January 2016 – the 32 tonne bollard pull, twin screw tug, Waterman (ex Erman), from Dutch owners Wagenborg, was purchased by Russian buyers as an addition to their growing tug fleet. She has been working towing shipyard hulls from Holland to Norway for some time and will now be put to work in the Black Sea. DSB has built up a strong relationship with Royal Wagenborg and have acted on their behalf for the acquisition of a number of other vessels for work in the Caspian Sea:- shoalbuster tug, two barges, accommodation vessel, icebreaker.
Sale of Multicat to Scottish buyers 2015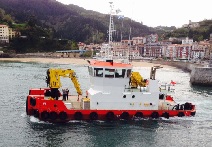 In March 2015 DSB received an urgent request from Scottish clients for a multicat-type vessel to work on a cable-lay project in the UK. By April DSB had located and delivered a suitable vessel, 'Zumaia Noveno', to the buyers. Built in Northern Spain, she has an LOA of 23.8m, beam 9.6m, 2 Heila deck cranes, 2 Yanmar engines, 24 tonne bollard pull and a clear deck area of 130m2. DSB's experience and Spanish language skills allowed us to mediate between buyer and seller effectively and without delay.
Newbuild ASD tug to International harbour towage provider – 2014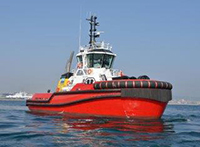 In early 2014 DSB negotiated the delivery of a newbuild 60tbp ASD harbour tug from leading Turkish shipyard to multinational harbour towage company. The tug will be used to supplement operations in the Americas.
The tug has a length of 24.4m, beam of 11.25m and 5.1m draft. Her deck equipment includes a double drum towing winch forward and aft deck space for one 20foot container. 2 x Rolls Royce propulsion units are powered by Caterpillar C4.4 engines.
Spudbarge – From Ajman to UAE Buyers – 2014
DSB Offshore was approached by Six Construct, in the UAE to find them a flattop barge around 80m x 24m for conversion to a quay on their various projects in the Arabian Gulf. The barge needed to be equipped with 2 large 100t ramps, 2 spuds and facilities such as Offices. DSB sold them Barge '2508' from Ajman, which was delivered to the new owners in April 2014, within 2 months of their initial enquiry.
Rockbarge 'Rock 7' from Belgian to Turkish Buyers – 2014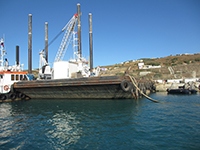 Turkish construction company STFA approached DSB Offshore to find them a 2,000 tonne barge, equipped for carriage of rock. STFA are constructing the new Port of Safi, on the Atlantic coast of Morocco. The port will receive 3.5 million tonnes of coal for use by the Thermal Plant. STFA will perform dredging works and quay construction.
DSB, acting on behalf of Belgian Construction company, Besix, sold them 'Rock 7', a barge kitted out with a concrete and wooden deck protection. Located in Tangiers, Morocco, a relatively short distance from the intended worksite resulted in low mobilisation costs.
DSB Offshore are specialist brokers for flat-top barges, accommodation barges, rock barges, semi-submersible barges and jack-up barges."
Sale of two Eurocarrier workboats – 2013
During 2013 DSB secured the sale of two multipurpose shallow draft Eurocarrier workboats, a design built by the Neptune Shipyard in Holland. These are highly versatile and manoeuvrable and used in a variety of marine operations including towage, salvage, barge & anchor handling, dredge support, fuel and fresh water supply, survey, sampling and dive support.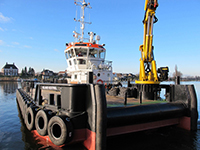 The first unit sold was the earliest Eurocarrier ever built in 1995,'Claudia B'. Her new Norwegian Buyers plan to utilise her in the local fish farming market.
Claudia B has a length of 22.6m, beam of 9.5m and a shallow draft of under 2m. Her deck equipment includes a 140tm crane and 40t towing/anchor handling winch and she can produce a bollard pull of 18t.
The second unit sold by DSB Offshore was the 2009 built Eurocarrier 2209 'Island Kestrel' from Irish Owners to UK Buyers. The new Owners plan to work her in both their local domestic market and further afield in Northern Europe. The Island Kestrel has a bollard pull of 15t, 50t split drum towing/anchor handling winch and Heila 140-3SL crane.
Sale of ballastable barge 'UR1' from Norway to Italian Buyers – 2013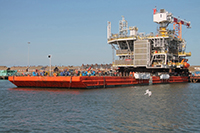 In 2013 DSB Offshore was approached by Italian tug company Somat, via their Italian agents, to find a high-spec ballastable 300ft 'North Sea' barge. This would be the first barge in their fleet and would be used for transporting equipment for an oil and gas terminal in the Mediterranean and West Africa. DSB acted on behalf of the owners of UR1, a barge of 90m x 27m. UR1 has a high deck strength of 25 tonnes per square metre – one of a handful in Europe and will be one of the most sophisticated in the Med.
Sale of 50tbp ASD Tug – 2013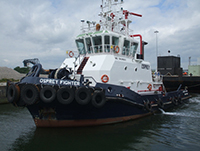 'Osprey Fighter' was built in 2007 by 'Pacific Ocean Enginerring and Trading Pte, China and since delivery had been working for UK Owners undertaking barge towage operations and occasional harbour towage. DSB secured the sale of the tug to Portuguese Buyers in 2013 which will supplement their fleet and work primarily in coastal towage operations in the North Atlantic. The tug has a length of 28m, beam of 9.8m, and max draft of 4m. Yanmar engines produce 3600bhp and twin Z drives a maximum bollard pull of 50t. Both a fore and aft towing winch are fitted and accommodation for 8 is provided in four cabins. Osprey Fighter has a cuttaway stern and stern roller which enables equipment to be easily loaded and hauled onto the aft deck.
Sale of backhoe dredger and splitbarges to Chile – 2013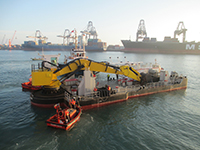 South American Buyers came to DSB Offshore in search of an effective solution to their capital port dredging project.
Faced with the challenging conditions of long and punishing Pacific swell, the project required a tailor made solution. After considering many different options DSB assisted in the procurement of a bespoke newbuild backhoe dredger, specially widened and strengthened to deal with the harsh project environment.
With the new dipper dredger, clients needed suitable splitbarges to work on the project. DSB investigated various options, including an in-depth study of a new build solution in South America. We ultimately found a new build option in Europe, which buyers agreed was the best option for their needs on this job.
DSB was able to solve to a number of problems and offer tailor-made solutions for the specialised needs of this job to the satisfaction of all parties.