Australia – 2009 to present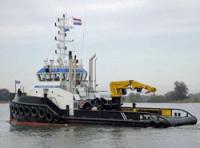 Since selling the first ever Damen Shoalbuster to work in Australia in 2009, DSB Offshore has sold or fixed on long term bareboat charter approximately 15 (newbuild and second hand) shallow draft anchor handling vessels into the Australian market.
The demand for these type of vessels from Australian Owners & Operators has grown steadily as many large scale mining and LNG construction projects have commenced such as the Gorgon LNG facility at Barrow Island on the North West Coast and the Hay Point Coal Terminal expansion in Queensland.
Despite the availability of many workboats and anchor handling tugs in S.E Asia our Australian clients have increasingly turned to higher quality and better equipped European Vessels which satisfy advanced electrical compliance criteria, are asbestos free and in most cases have single cabin accommodation.
The challenge in delivering vessels to Australia from Europe is the huge distance and associated high mobilisation costs. DSB Offshore have assisted our clients in finding the most viable mobilisation options either transport by heavy lift ship or delivery under own keel.
The vessels sold or bareboat chartered by DSB Offshore into Australia to date include:-
Shoalbuster type Neptune Multipurpose Shallowdraft AHT – 51tbp
Damen Shoalbuster 3009 (2 x units) – 50tbp
Damen Shoalbuster 3209 – 48tbp
Damen Shoalbuster 2709 – 40tbp
Damen Shoalbuster 2609 (2 x units) – 30tbp
Multicat type Eurocarrier 2611 (2 x units) – 33tbp
Multicat type Eurocarrier 2395 – 25tbp
Damen Multicat 1908 (2 x units) – 12tbp
Shallow draft pushtugs (2 x units) -16tbp
Oresund Tunnel Project 1996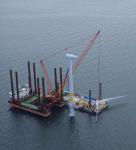 From 1996-2000 Sundlink Contractors (Skanska AB, Højgaard & Schultz, Monberg & Thorsen, Hochtief AG) and Øresund tunnel Contracts (NCC AB, Dumez-GTM SA, John Laing Ltd, E. Pihl & Søn, Boskalis Westminster) constructed bridge and tunnel across the Oresund, now connecting Copenhagen and Malmo. DSB Offshore provided jackup barges, concrete mixing barges, mooring winches, etc. used in construction and was contracted to organise towage of the vessels to site.
It crosses international shipping channels and includes 4km tunnel, a 4km artificial island and 8km bridge."
Source: oresundsbron.com
Sundlink Project – 1998/1999
Dragados via DSB Offshore contracted barge 'Giant 4' and her sister the 'Giant 3' for the transport of 49 bridge span sections for the Oresund, the link between Denmark – Copenhagen and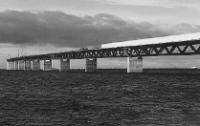 Sweden – Malmo. In total 25 voyages in 22 months between Cadiz; Spain and Malmo, Sweden were made. Bridge span sections of 120m and 140m in length with weights of 4,700 tons and 5,200 tons.
Some figures: total steel weights 66,182 tons; total concrete weights 157,304 tons in total transport weight 223,486 tons. In total 5 tugs have towed the Giant 4 and Giant 3 up and down from Cadiz to Malmo. The tugs involved Sumatras, Suhaili, Simoon and Solano from International Transport Contractors – Haarlem; Netherlands and the Anglian Duke from Klyne Tugs, Lowestoft, UK. The total distance made with the pontoons was 97,413 miles, that will say 2.5 times around the world!
Photo by Maarten Versluis and Hans Van der Ster.
Canary Wharf Docklands Development 1989 ongoing for several years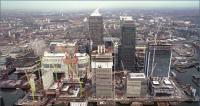 During the period 1988-1992 Canary Wharf became the largest building site in Europe, being the centre of the transformation of the former London Docklands into the business centre of London. DSB Offshore provided office barges, accommodation barges for workers, workbarges and performed numerous towages over several years on behalf of the construction companies.