Charter crewboats 'SeaFox' and 'Sea Ferret' Moray Firth – 2014, 2015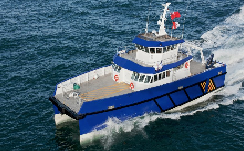 At the end of May 2015 DSB was approached by a large construction company who have been working in the Moray Firth. They needed a crew vessel to be used to support their met mast operation. 24m LOA 'Sea Fox' catamaran crewboat, operated by Enviroserve, who had just finished her contract, was moved straight away to continue her charter at Inch Cape. Happy with her work done on the first contract, clients agreed 'Sea Fox's charter extension on this new job. 'Sea Fox' remained in Moray Firth until 21 July 2015.
DSB Offshore also provided a spread of  vessels to Moray Firth and Inch Cape in 2014:
– Crewboat 'Sea Ferret' (first mast repair)
– Transportation of 'Morl' caisson (by tug 'Kestrel')
– 3 x 50tbp tugs 'Erlend', 'Einar' and 'Harald'
Towage of barge from Malaysia to Canada – 2014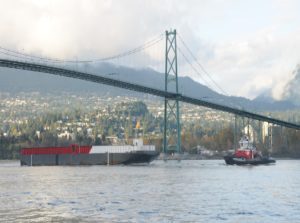 DSB Offshore organised the towage of 2004 built flattop barge Solid 66 (L 109.72m x B 28.04m x 6.4m), by 33m tug Southwind (43t bollard pull). The two completed their 6769 Nautical Miles, from Sarawak, Malaysia, to Vancouver, B.C in November 2014. Southwind had to alter her course several times during her 2 months at sea due to hurricanes in the area. In the photograph, Southwind is following the barge through the First Narrows under the Lions Gate bridge in Vancouver having handed the barge over for the inward passage. DSB Offshore were the exclusive brokers in this long distance towage.
Charter of Accommodation vessel to Petrofac, Shetland – 2014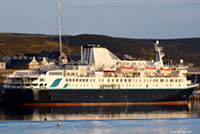 In January 2014 DSB worked with Petrofac to fulfill an urgent request for a suitable accommodation barge or cruise ship to help house workers in Sullom Voe, in the Shetland islands on behalf of their sub-contractors, building the Shetland Gas Plant. This is part of Petrofac's EPC contract to allow Total to transport gas from Laggan and Tormore gas fields to a terminal in Peterhead, Scotland.
Lerwick is small town of only around 7,000 people with very limited accommodation. DSB, through their contacts in the passenger vessel world, provided cruise vessel 'Ocean Endeavour' – together with 5 other vessels the Endeavour is now housing over well over 1,000 workers.
'MS Ocean Endeavour' did her first project for new owners, the vessel having changed hands to the present owners in Jan 2014 only days before the start of the present contract.
This charter concluded in May 2015.
Charter Jackup 'JB-115' for Offshore Construction 2013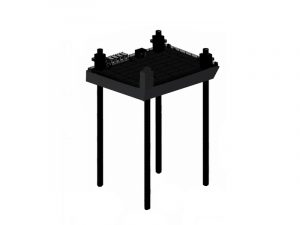 In summer 2012 DSB chartered the DP2 Platform Supply Vessel 'Toisa Invincible' to work as a pipe haul vessel for Oil & Gas service company 'GSP Offshore' in the North Sea.
'Toisa Invincible' has a length of 82.88m and a clear deck area of 936m2. She can load 3000t on deck and is Class 2 DP.
Charter of C7 Modular Jackups – 2013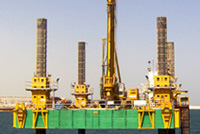 In 2013 we were involved with two C7 jackups working in South America. One was on a long term contract in Mexico whilst the second jackup was in Peru. Both were involved in piling for jetty construction work.
Jackup for Site Investigation 2013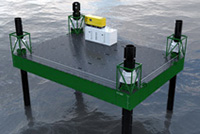 A Moroccan dredging company approached us for a jackup that could work in the Mediterranean in relatively deep water, for site investigation of a possible new port. We were able to identify a nearby jackup technically suitable for the work involved.
Transportation of 3 patrol vessels Horten Lagos – 2013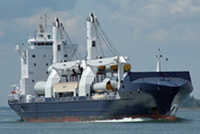 DSB Offshore managed to secure a deal with Intermarine LLC towards the end of 2013. Intermarine was chosen amongst several heavylift companies who quoted for this job. The project involved the transportation of 3 patrol vessels from Norway to Nigeria as part cargo onboard the vessel HR Constitution.
HR Constitution is a 2006 built dry cargo multipurpose vessel, strengthened for heavy cargo. She is one of Beluga's C-Series and has 2 Liebherr cranes of 240t each.
Due to the complex banking situation in Nigeria and the special nature (ex-navy) of the vessels, DSB Offshore had to co-operate closely with both parties in order to ensure a smooth operation and to maintain a good relationship with both the Carriers and the Shippers.
The Shippers were experienced owners of patrol vessels in West Africa and were planning to expand their fleet. The patrol vessels which were transported weighted approximately 125t each.
DSB Offshore Ltd are specialist brokers for sale and charter of tug boats and workboats."
Longterm bareboat charter of 72tbp ASD tug – 2013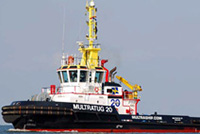 In 2013 DSB Offshore helped secure the long term bareboat charter of ASD tug Multratug 20 (ex Waterchief) from Norwegian Owner to Dutch towage and salvage specialist Multraship. The 72tbp tug was built by the Bogazici Shipyard in Turkey in 2010 and is equipped to undertake a range of services including towage, escort, anchor-handling, fire fighting and salvage.
Multratug 20 has two Schottel SRP 1515 propulsion units and is powered by two Caterpillar 3516B engines. Its 244 cu m bunker capacity allows for both coastal and open sea towage and, with a length overall of 32.5 m, it can comfortably perform harbour towage operations. Deck equipment includes a 200t/80t MacGregor escort winch, a 130t/65t towing winch, a deck crane, a triple shark jaw, tow pins and a 130t stern roller.
Multraship plan to utilise the tug primarily at sea, for towage, and to provide assistance and support for wind-farm and offshore construction projects.
Transport of a dredger and splitbarges to South America – 2013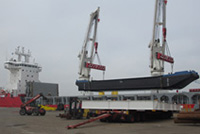 As a crucial part of the sale of a backhoe dredger and splitbarges to West Coast South America, DSB assisted the new owners to find a competitive transport solution from North West Europe. All three vessels were loaded onto a heavy lift ship in the Netherlands, which took the units through the Panama Canal and down the West Coast of the continent, delivering them in Chile.
DSB were able to provide the indispensable combination of vessel procurement and supporting transport as a total package in this deal.