Charter of 'Mothership' and 2 patrol vessels East Africa – 2012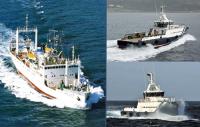 DSB was asked to source a 'Mothership' and two patrol vessels by a marine security company for Drill Ship protection in East Africa. Each patrol vessel was required to achieve min 20 knots, carry 8 armed guards and one Rigid Inflatable Boat and the 'Mothership' to carry 14 armed guards, 2 x 7.6m Rigid Inflatable Boats and maintain a speed of 15 to 18 knots.
DSB successfully sourced the vessels which were then modified by installing davits to deploy and retrieve the RIBs before being mobilised to East Africa from Singapore.
Towage of North Sea Barge – 300 x 90m – 2012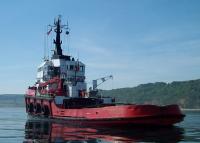 At the beginning of 2012 DSB sourced a tug for the towage of a 300 x 90 North Sea Barge in ballast from Stavanger, Norway to Portsmouth, UK . The tug selected was the well known North Sea based tug 'Eurosund'.
'Eurosund' is a twin screw conventional towing tug with 3520bhp and a bollard pull of 50t. She was Built in the UK in 1979.
Charter of DP2 Pipe Haul/ Platform Supply Vessel – 2012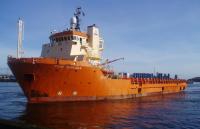 In summer 2012 DSB chartered the DP2 Platform Supply Vessel 'Toisa Invincible' to work as a pipe haul vessel for Oil & Gas service company 'GSP Offshore' in the North Sea.
'Toisa Invincible' has a length of 82.88m and a clear deck area of 936m2. She can load 3000t on deck and is Class 2 DP.
Transport of Jackup Barge 'JB1' from Dubai to Malaysia – 2012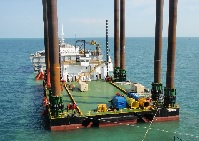 In 2012 DSB secured the transport of Jackup Barge 'JB1' from Dubai to Port Klang, Malaysia on Semi-Submersible vessel 'Hawk'. The 'JB1' has dimensions of 49 x 30m and a leg length 56m. It was transported to Malaysia to be modified for future use on Offshore Windfarms.
Towage of 750m3 Splitbarge from Bilbao, Spain to Beirut Lebanon – 2012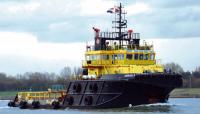 After brokering the sale of the Splitbarge to Lebanese Buyers DSB Offshore also sourced a tug for towage of the Vessel to Beirut.
The tug selected was the Polish Owned 'Amber'. She has a bollard pull of 65t and was built in 2008. She has a length of 48m and Class 1 Firefighting capability.
Towage of barge 'Osprey Carrier' by Shoalbuster 3009 'Vigilant' – 2010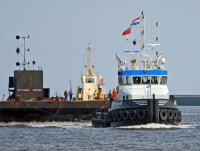 Towage of barge 'Osprey Carrier' by Shoalbuster 3009 'Vigilant' – 2010 – click here to see this video DSB secured the towage of the 76 x 22m barge Osprey Carrier from Babcocks Shipyard in Appledore to Firth of Forth by 50tbp Shoalbuster 3009 'Vigilant'. This towage was the first major transfer of prefabricated sections for the new aircraft carrier 'HMS Queen Elizabeth' being built at the Royal Navy dock in Rosyth. The sections comprised parts of the aircraft carriers bulbous bow and weighed approx 400tons. In order to manoeuvre the barge safely in the shallow water of Appledore DSB secured the Vigilant due to her shallow draft of 2.6m and flat bottom so she could dry out on the mud if required.
DSB Offshore Ltd are specialist brokers for sale and charter of tug boats and workboats."
Towage of accommodation barge Kalevala through Russian waterways – 2010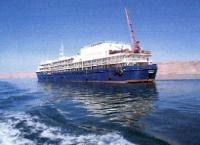 In 2010 DSB secured the lumpsum complex towage of 105m accommodation barge 'Kalevala' from Astrakhan in the Caspian Sea through the Volga-Don and White Sea Canal Russian waterway systems to Belomorsk by utilising a total of 5 tugs. Certain modifications were required to be carried out to the barge to reduce her airdraft to allow passing under the bridges en-route and the tow had to be completed before the onset of the winter ice season.
Shoalbuster Giessenstroom on longterm contract in Falklands – 2009-2019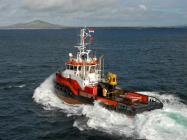 Shoalbuster 'Giessenstroom' on longterm contract in Falklands.
Details of vessels for this charter:
'Giessenstroom' – commencement date 01.04.2009, period 10 years
'Dintelstroom' – delivery 01.01.2010, period 9 years and 3 months
'MP3002' – delivery 01.01.2010, period 9 years and 3 months