Charter of unusual ultra shallow draft push tugs – 2009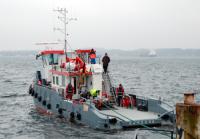 In 2009 DSB co-brokered the long term charter of unusual ultra shallow draft push tugs 'Christian' & 'Moin' to clients in Australia. The tugs have a length of 18.8m and a draft of 1.8-2m. Their Volvo Penta engines have an installed power of 2 x 591bhp and produce a bollard pull of 16t. The units have 2 fendered push bows installed for pushing barges.
Towage of pipelay barge by 50tbp Englishman – 2009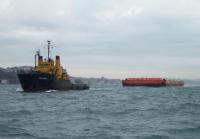 'The Bigfoot' barge was bought by GSB Romana for conversion to pipelay vessel. DSB fixed the 'Englishman' at 50tbp to tow her in ballast from Rotterdam to Constanza.
Falklands Part II – 2009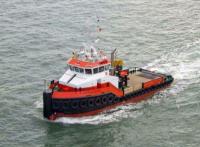 Against strong competition DSB Offshore helped Van Wijngaarden to secure a ten year contract with the Ministry of Defence for the provision of a tug-barge convoy to be used for supply and provision of material to the naval base in the Falkland Islands.
Charter of 2 x 500m3 Splitbarges in UK – 2009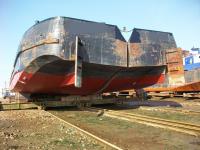 Dumb remote controlled split hopper barges 'Lune Deep' and 'South Deep' were chartered to BAM Nuttall for port construction project in Rosyth. They were used to carry a mixture of sand and silt.
Towage of Jackup for hydrographic survey (2005) & jackup from Wales to France (2008)
DSB fixed the 50tbp twin screw tug 'Eurosund' for towage of jackup for hydrographic survey of Greater Gabbard windfarm and on-site support, Sept 2005.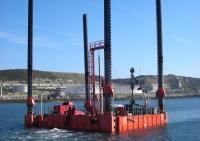 M/tug 'Danasund' towing small jackup from Wales to Antifer, France and on-site support for Fugro, August 2008.
DSB Offshore Ltd are specialist brokers for sale and charter of construction and accommodation jackup barges."
25 Passenger Hovercraft (2001) and Backhoe dredger 'Server II' to Canary Islands (2004)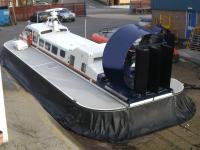 DSB chartered a 25 pax hovercraft to Moebius Baugeselschaft for transfer of workers over the marsh areas near Hamburg for the Eurobus project.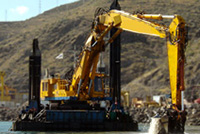 Backhoe dredger 'Server II' in Canary Islands.
Jackup for Indian Port Construction 1990
We were contacted by a British/Indian consortium bidding for work in Jamnagar, NW India. The area involved had a fast flowing tide, a rise and fall of approximately 10m and a muddy bottom. We were able to provide a large construction crane jackup nearby in the Middle East which was able to cope with local conditions and the 77m piles which were being installed.