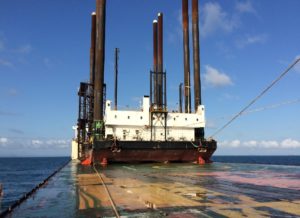 Press release December 2014:
The 1987-built 'Zhen Hua 29' semi-submersible heavy load carrier (IMO 8700498) managed by ZPMC arrived in Port Klang, Malaysia earlier this month carrying jack-up 'JB1'. With dims. 49 x 30m, the jack-up comfortably piggy backed on this 243m long heavy carrier with a deck space of 165 x 42 m2.
In the photograph the vessels are en route from Gladstone, Queensland, Australia. JB1 is a dedicated piling jack-up with 8 legs of 57m and a large moon pool. She was brought in specially, two and a half years ago, to do the piling work on one of the great infrastructure projects in Australia – Wiggins Island Coal Export Terminal (WICET).
The heavylift flo-flo transport was arranged by DSB Offshore shipbrokers who arranged the original dry towage of 'JB1' to Australia in 2012.