Storm Angus
Stema Barge II, carrying rock and anchored off the Dover coast, saved the 199m cargo ship, Saga Sky, from running aground during Storm Angus.
Last weekend saw storm Angus, the first named storm of the season, hit the British Isles with gusts of up to 84mph. Angus hit the coastline especially hard leaving many homes on the South West of the country without power for the weekend.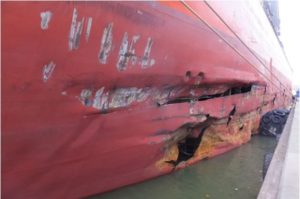 During the height of the storm, in the early hours of Sunday 20th November, Saga Sky collided with barge Stema II at Dover. At one point witnesses claimed that the vessel was actually on top of the barge.
According to the Marine Accident Investigation Branch (MAIB), "As the weather rapidly deteriorated, with wind speeds in excess of 80 knots, the vessel's speed dropped and it began to pitch heavily. The propeller came out of the water causing the engine to over speed and shut down. Saga Sky's engine was restarted and the vessel was maneuvered out of the traffic lane. However, it then began to drift rapidly towards shallow water. Both anchors were deployed but this failed to arrest the drift."
Stema Barge II
Stema Barge II (SB2), owned by Mibau-Stema is a 135 x 42m flattop barge designed to carry aggregate for marine construction. She was anchored in the shallow water not far off the coast of Dover.
At 8:40am Saga Sky impacted with Stema II.
"The UK Coastguard evacuated all non-essential crew, there were no injuries and despite significant hull damage, both vessels remained afloat," said the MAIB. Stema Barge II will discharge and then go back to the yard for repairs, though damage is not too bad. Saga Sky is far worse off with probably more than 2 months necessary for repairs.
An inside source who spoke to DSB Offshore said that, "If the barge hadn't been there, Saga Sky would have been lying on the beach beneath the White Cliffs."
Barges or pontoons as they are called in Europe, especially flattop barges, are often discounted as 'not really a vessel' by those in the industry that DSB jokingly call 'propulsion snobs'. But here it is clear that the flattop barge saved the day.
https://youtu.be/gtO8c19D26k
Information from clients and from the MAIB.