'DN143' ex-Sainty 6 sold
On 18th October 2018, the Jan De Nul Group parted with one of the leading ladies of its auxiliary fleet – 'DN143' (ex-'Sainty 6'), an impressive flattop barge of 136 x 42m in dimensions and 24,000 dwt.
'DN143' began her career as one of the youngest of the Sainty barge sisters, constructed at the Sainty Shipyard and designed to deliver stacked cargos of newbuilding river barges from China to Holland and Germany.
Then in 2013, bought by the Jan De Nul Group (JDN), she landed the starring role of her career to date.
Wind Power
Following the award to JDN of the Swedish Karehamn Offshore Wind Farm project – involving the design, construction, and transport and installation of 16 windfarm turbine foundations, 'DN143' took centre stage.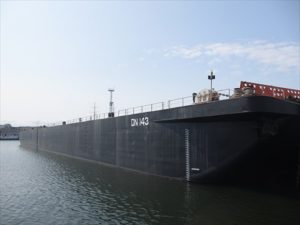 Huge foundations were constructed on top of her enormous deck while she was moored in the sheltered waters of the Port of Zeebrugge. Then, loaded with the approximately 22,000 tonnes of concrete foundations, she was towed 1,500km, through the Skagerrak and Kattegat sea areas to Sweden where the foundations were installed.
Now fully operational, Karehamn windfarm provides power for 15,000 families – half of Öland. 'DN143' was thus instrumental in securing wind power for a small Swedish island.
Power to Power
The barge, now owned by Turkish company, Karpowerdeniz joins a growing fleet of power generator vessels supplying power to some of the remotest regions of the globe. She is not the first Sainty barge to serve this purpose. One of them, 'Sultan Esra' was converted from 'DN143's sister barge and now equipped with 235MW power is moored off Lebanon where she is providing a significant portion of the country's power supply!
'DN143' joins her sister barge in going from power to POWER!
Documentary featuring 'DN143' in the role she played in JDN's Karehamn windfarm project:
Shipbrokers
Representing Sellers: London shipbrokers, DSB Offshore Ltd and Boogaard Sliedrecht B.V.
Representing Buyers: S&T Maritime, London