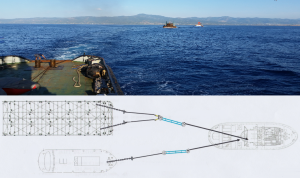 Press release August 2015.
The end of July marked the completion of a complicated multiple vessel tow brokered by DSB Offshore. A total of seven distinct units were towed by two tugs from two separate European owners from Djen Djen, Algeria to Safi Port, Morocco. These units were intended for work on a port construction project.
2011 built 63.8t bollard pull tug, Sea Dream, operated by Oromare, completed 2 double tows. In voyage #1 she double-towed a barge (40 x 16m) and a tug (23.9 x 5m), while in voyage # 2 she towed a floating crane (45 x 17m) and a flattop barge (50 x 18m). Sea Dream towed nearly 2300 tonnes in her two double tow voyages.
Almost simultaneously, in order to facilitate customs clearance and planning constraints, 1988 built MTS Vengeance (30t bollard pull), managed by Marine & Towage Services, also left from Djen Djen in Algeria with her first cargo in tow, a 40 x 16m grab dredger. Her second voyage involved towing a flattop barge (45 x 15m) and a tug (22.9 x 8m). Juggling a number of logistical balls in the air, DSB Offshore shipbrokers acted on behalf of the tug owners. Considerations of towing capabilities of vessels, weather and the operational schedules of the end charterers had to be considered carefully.
Press release appeared in Towingline.com newsletter v16 no.65 16 August 2015.